December 16, 2015 By Dr. Charles Taylor Leave a Comment
The purpose of this article is to encourage colleges to integrate this cultural holiday into their student activity calendars, thus allowing all students to experience this unique celebration. The celebration works well in residence halls and with student organizations taking the lead.
 What is Kwanzaa?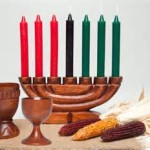 Kwanzaa (KWAHN-zah) is a seven day African American cultural holiday, observed by peoples of Afrikan descent worldwide. It is a joyous celebration to reaffirm traditional Afrikan social values. It is therefore non-religious and non-heroic. The word "Kwanzaa" is derived from a Kiswahili phrase, "MATUNDA YA KWANZA" (mah-TOON-dah yah KWAHN-zah), meaning "first fruits."
In Afrika, harvesting the first fruits or crops of the season was cause for celebration. The African American version of Kwanzaa was inspired by the traditional Afrikan ritual celebrating the harvest of the first fruits. An extra 'a' was added to the ending of the word Kwanzaa to distinguish the African American celebration.
Before proceeding with the principles of Kwanzaa, I should explain why Afrika is spelled with a K. Dr. Nantambu presents a concise analysis of the reasons for spelling Afrika with a K, based on the work of poet and writer Haki Madhubuti in Haki's book From Plan to Planet (1973). Nantambu (2002) suggests four main reasons for the alternative spelling: [Read More...]
May 20, 2015 By Dr. Charles Taylor Leave a Comment
Madison, Wis. (May 12, 2015) – Dr. Charles "Chuck" Taylor was recently honored with the Edgewood College Faculty Award for Excellence in Multicultural Education.
This award recognizes outstanding contributions to students, faculty and to Edgewood College across multiple aspects of multicultural education.
Dr. Taylor's work in multicultural awareness, inclusion and honoring of diversity in the workplace and the world was noted in the citation.
"Dr. Taylor's efforts to provide a laboratory for engagement in an intersectional analysis of race, ethnicity, class and gender, represents a distinguished record of excellence in multicultural education at Edgewood College and in the greater Madison community," said Dr. Dean Pribbenow, Vice President for Academic Affairs.
"He has developed innovative, academically rigorous coursework in critical studies of race, ethnicity and multiculturalism in the United States, which is now a required element in our doctoral program in Educational Leadership, while using culturally responsive pedagogies in all of the courses he teaches," Pribbenow said.
The plaque they gave me read: "For your invaluable contributions and commitment to multicultural education and scholarship, as well as your energetic and imaginative diversity initiatives both in and outside the classroom. Edgewood College honors you for the profound impact your teaching has had on your students."
- – - – - – - – - – - – - – - – - – - – - – - – - – - — – - – - – - – - – - – - – - – - – - – - – - – - – - – -
Indeed I was humbled by this award but an equally fulfilling honor came when I was able to walk across the stage with three of my students who earned their doctorate degrees this year. I am so proud of each of these students and I know each will continue to make great contributions to our society. That's what we as educators hope for and expect of our graduates. I want my students to use education to challenge social inequities. We need researchers who will arm themselves with liberating knowledge to help us reclaim our true history and accurately tell our stories. I want all of my students to leave my classroom more empathetic, engaged and willing to stand up for social justice.
Taysheedra wrote her dissertation on: Nursing students' perceptions of two program outcomes modeled by nursing faculty at a mid-west technical college. Her goal is to set up a health clinic for women. I have no doubt in my mind that she will achieve her goal. I'm thrilled to have contributed to the educational part of her journey.
April 11, 2015 By Dr. Charles Taylor 1 Comment
DBE interviews prominent scholars and leaders from around the country and features them on its website. This interview features Ms.  Angela Provitera McGlynn Professor Emeritus, Mercer County Community College.
DBE: We understand you've written a book to help campuses educate and graduate low income, first generation and students of color. What motivated you to write this book and how will it help campuses do just that?
Angela Provitera McGlynn: Yes, the book is entitled, Envisioning equity: Educating and Graduating Low-income, First-generation, and Minority College Students.  It was published by Atwood Publishing in 2011.  I taught psychology at a community college for 35 years and as most people know, the community college population is very heterogeneous and diverse.  I taught students who were well prepared for college and very bright.  They chose to attend a community college for the first two years primarily because of the lower cost as compared with a four-year institution and because it was close to home.  Many other students were adult learners returning to school to change careers or simply to pursue life-long learning.  And then there were many students who were the first in their families to attend college.  Many were from low-income families and many belonged to minority groups that have been traditionally under-represented in higher education.  I saw in my teaching that this last group – first-generation, low-income, and minority students, populations that often overlap, were at risk for completing their degrees.  I wanted to change their trajectories not only by my teaching but also by pursuing research about institutional factors that would make a difference in terms of their academic success.
My book explains pedagogical strategies for college teachers that promote student success for all students but seem to have an even bigger impact on at-risk students. Additionally, the final third section of the book entitled, "Improving Graduation Rates through Institutional Commitment," depicts practices, policies, and strategies that can enhance academic success for this population in particular. In fact, I provide a checklist created by Shulock et al. 2010) for how governors, legislatures, P-12 School Boards, Postsecondary Boards and Postsecondary Coordinating Boards could all play a role in promoting student success.   The chapter mentioned above emphasizes the role college administrators can play not only at their own institutions but also in partnering with high schools so as to ensure better preparedness of students to do college-level work. [Read More...]