Dr. Charles Taylor, author, speaker and diversity expert is one of the leading voices in diversity education today, turning thoughts and ideas into positive action across the country.
Many campuses struggle with the issues of diversity – from ensuring equitable representation among students, faculty and staff of color, to evaluating retention programs and/ or working to create a campus culture that provides the support and resources that all students need to be successful.
While there are many "experts" available for educators who are interested in raising awareness on their campuses, Dr. Taylor is willing to get his hands dirty; to work with you individually to find the root causes of the challenges your faculty and students face – and find solutions that will work not just today – but tomorrow as well. Large organizations that consult about college diversity issues do wonderful work, but often the solutions they have are too broad, too impersonal, and too expensive to meet your needs.
When you're looking to solve a problem as intricate and important as the retention and inclusion of ALANA (African, Latino, Asian and Native American) students on your campus – you want a hands-on, personal approach, and you want it quickly – something Dr. Taylor understands and accommodates.
Dr. Taylor uses his more than 30 years of experience, detailed and extensive research skills, and keen foresight to tailor solutions that are appropriate for your institution. You can have him in your corner, giving you the knowledge, tools and guidance to take your diversity initiatives to the next level.
Diversity benefits everyone – and the time to start not just achieving, but exceeding your school's diversity mission is now.
Who is Dr. Charles Taylor?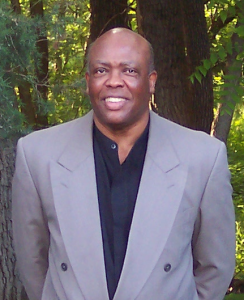 Currently a professor of Education at Edgewood College in Madison Wisconsin, and President of Roar Enterprises, Inc, a consulting firm, Dr. Taylor hails originally from Missouri, with 11 brothers and sisters. He grew up in poverty, but later became the first in his family to earn a college degree.
Dr. Taylor holds degrees from the University of Wisconsin – Madison, the University of Oregon, and Southeast Missouri State University. He has served as the Dean of Business School at Edgewood College, as the VP and Academic Dean at Herzing University, and as a Regional Dean at Cardinal Stritch University.
Over the years Dr. Taylor has proven himself to be an innovator, accomplished author and educator, sought-after speaker and community servant of the highest order. Examples of the projects Dr. Taylor has created and spearheaded in the past are:
The Urban League's Center for Economic Development – a multi-million dollar project that provides one stop service to Madison's low-income families, and helps them integrate into the economic mainstream.

Decade of Discontent

—This award winning documentary written and produced by Dr. Taylor takes a riveting look at Milwaukee's efforts to address four major social issues: unemployment, unequal education, police-black community relations and open housing. The Milwaukee Journal in a critique of the documentary said "The documentary does a first-rate job of telling the story of the black discontent that characterized the period"-1960-1970. Check out this 3-minute clip.

The Diversity Institute on Wheels – A live day-long workshop that takes faculty, staff, students and administrators off the campus and into the community where they are able to meet, engage with and learn from community leaders of color, and truly immerse themselves in a multicultural experience.
ROARrrr – A highly acclaimed children's play that Dr. Taylor wrote and produced brings children of all ages together in a "Kids Day of Unity." It tells the story of Maureen – a village girl who brings the divided worlds of man and beast together by helping the beast king learn an important lesson.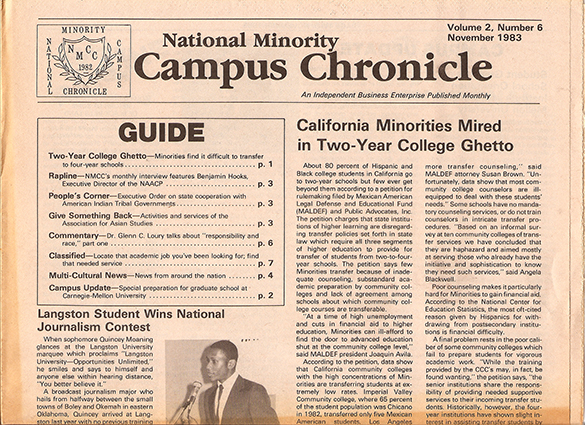 There's more to Dr. Taylor's story. He has served the higher educational community for many years. Some of you may remember that he and his brother Steve launched the National Minority Campus Chronicle back in the early 80s. This old edition from his archives might bring back memories for some of you. This monthly newspaper covered news by and about students, faculty and staff of color. Chuck and Steve interviewed the leading scholars and equal opportunity activists of that time period.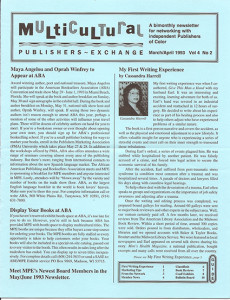 During this same period Chuck founded MPE-Multicultural Publishers Exchange, a national consortium of over 250 independent publishers specializing in books and media by and/or for African, Hispanic, Asian and Native Americans. MPE offered its members a monthly newsletter,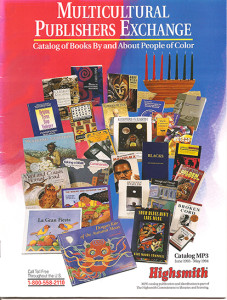 an annual conference and at that time the most widely distributed multicultural book catalogue in the country. Those of you who were around during that time may have attended one of the national conferences that Chuck hosted in San Francisco, Los Angeles or Madison, WI. After the Rodney King "riot" MPE spearheaded a book drive for the LA public schools that was so successful, that the late Mayor Tom Bradley declared a "Multicultural Publishers Exchange Day."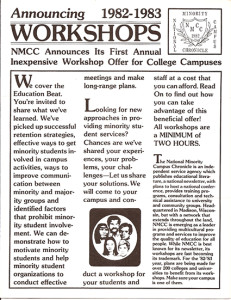 If you don't remember Dr. Taylor from MPE or the National Minority Campus Chronicle, you might remember him from some of the workshops he's conducted around the country or his signature reference book-Guide to Multicultural Resources. The Guide was a comprehensive directory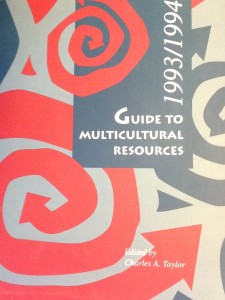 of over 3,000 ALANA organizations, institutions, associations and agencies with a multicultural mission. Choice Magazine said "…this directory could become a mainstay of reference collections.." The California Library Association hailed it as one of the "best reference directories available anywhere!" The good news is that Dr. Taylor may publish an updated version in 2014 so be sure to watch for that.
This is just a sampling of the work Dr. Taylor has done over his long career. For more information about his books – please see the full collection on this website.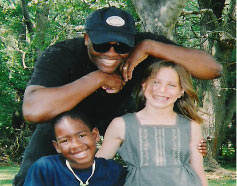 Above all – Dr. Taylor is a friendly, kind-hearted professional with a passion for this work that exceeds all else. But we know the secret to what really motivates him-what instantly puts a wide smile on his face; his pride and joy! His grandson Kemet and goddaughter Maureen. Dr. Taylor says these kids mean the world to him. One is black, one is white, one is urban, one is rural, one is a boy, and the other a girl-he says they both are our future!
Why don't you take a moment to send him an email? Say hello, share your story – he is here to listen, and to help. You can reach him through the contact page on this website, or by emailing him directly at CT (at) DrCharlesTaylor (dot) com.