The purpose of this article is to encourage colleges to integrate this cultural holiday into their student activity calendars, thus allowing all students to experience this unique celebration. The celebration works well in residence halls and with student organizations taking the lead.
 What is Kwanzaa?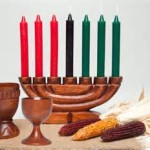 Kwanzaa (KWAHN-zah) is a seven day African American cultural holiday, observed by peoples of Afrikan descent worldwide. It is a joyous celebration to reaffirm traditional Afrikan social values. It is therefore non-religious and non-heroic. The word "Kwanzaa" is derived from a Kiswahili phrase, "MATUNDA YA KWANZA" (mah-TOON-dah yah KWAHN-zah), meaning "first fruits."
In Afrika, harvesting the first fruits or crops of the season was cause for celebration. The African American version of Kwanzaa was inspired by the traditional Afrikan ritual celebrating the harvest of the first fruits. An extra 'a' was added to the ending of the word Kwanzaa to distinguish the African American celebration.
Before proceeding with the principles of Kwanzaa, I should explain why Afrika is spelled with a K. Dr. Nantambu presents a concise analysis of the reasons for spelling Afrika with a K, based on the work of poet and writer Haki Madhubuti in Haki's book From Plan to Planet (1973). Nantambu (2002) suggests four main reasons for the alternative spelling: [Read more...]