DBE interviews prominent scholars and leaders from around the country and features them on its website. This interview features Ms.  Angela Provitera McGlynn Professor Emeritus, Mercer County Community College.
DBE: We understand you've written a book to help campuses educate and graduate low income, first generation and students of color. What motivated you to write this book and how will it help campuses do just that?
Angela Provitera McGlynn: Yes, the book is entitled, Envisioning equity: Educating and Graduating Low-income, First-generation, and Minority College Students.  It was published by Atwood Publishing in 2011.  I taught psychology at a community college for 35 years and as most people know, the community college population is very heterogeneous and diverse.  I taught students who were well prepared for college and very bright.  They chose to attend a community college for the first two years primarily because of the lower cost as compared with a four-year institution and because it was close to home.  Many other students were adult learners returning to school to change careers or simply to pursue life-long learning.  And then there were many students who were the first in their families to attend college.  Many were from low-income families and many belonged to minority groups that have been traditionally under-represented in higher education.  I saw in my teaching that this last group – first-generation, low-income, and minority students, populations that often overlap, were at risk for completing their degrees.  I wanted to change their trajectories not only by my teaching but also by pursuing research about institutional factors that would make a difference in terms of their academic success.
My book explains pedagogical strategies for college teachers that promote student success for all students but seem to have an even bigger impact on at-risk students. Additionally, the final third section of the book entitled, "Improving Graduation Rates through Institutional Commitment," depicts practices, policies, and strategies that can enhance academic success for this population in particular. In fact, I provide a checklist created by Shulock et al. 2010) for how governors, legislatures, P-12 School Boards, Postsecondary Boards and Postsecondary Coordinating Boards could all play a role in promoting student success.   The chapter mentioned above emphasizes the role college administrators can play not only at their own institutions but also in partnering with high schools so as to ensure better preparedness of students to do college-level work.
DBE: What are some significant challenges these students face in getting into and staying in college until they graduate?
Angela Provitera McGlynn:  When we look at challenges students face in getting into college we're talking about enrollment barriers.  The second set of challenges deal with retention and degree attainment. What stands in the way of students gaining admittance to colleges?  The single biggest barrier is coming from a low-income family and all the ramifications of that socioeconomic status (SES).  Lack of preparedness to do college-level work often stems from SES. According to the Pell Institute, in 2012, just 8.3 percent of students in the bottom economic quartile graduated from a four-year college by age 24.  In contrast, 73 percent of those students from the top quartile earned a college degree by the same age.  Secondly, being the first in your family to attend college is a barrier for enrollment and for retention.  College-educated parents guide their children in numerous ways through the complexities of the admissions process.  Once in college, these students also have the benefit of their parents' experience in negotiating the challenges to their academic success.  I would say the third challenge, particularly for Black and Hispanic students on predominantly white campuses, is to attempt to develop a sense of belonging in an environment that is often not all that welcoming.  We now have three decades of research showing the importance for students to feel connected to their institutions, their faculty, and their peers.  In fact, sense of belonging is one of the key predictors of degree completion.
DBE: The first part of your title speaks to envisioning equity? What do you mean by that and do you think it's possible to achieve equity in our lifetime?
Angela Provitera McGlynn: When I think about equity I am envisioning a society in which there is equal opportunity.  Obviously, we are all unique and we are not all born equal in terms of innate ability.  However, the literature tells us that much of who we are to become in life depends on environmental and experiential variables.  I'd like to see those factors create a more level playing field so that all people, regardless of SES, demographic factors, gender, and race/ethnicity, would have the same opportunities for academic success and career choices.  We are so very far from my vision becoming a reality that, in my mind, it is overly optimistic to say we can achieve equity in our lifetime.  On the other hand, I believe that striving for equity puts us on a journey where we can make things substantially better even if we don't reach our destination in the near future.
 DBE: Let's say you've been invited to a college to consult with the President's Leadership Team about policies and programs to help recruit and retain students of color. What 2 or 3 things would you tell them to do first?
Angela Provitera McGlynn:  I would suggest that since level of preparedness to do college-level work is a key factor in academic success at the college level, institutions of higher education must be involved in educational reform of the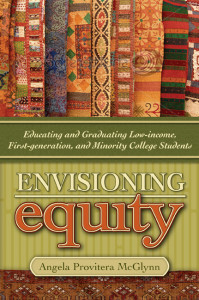 K-12 sector.  Colleges and universities ought to (and many are already doing this) work with their local high schools to implement more rigorous high school curricula that promotes not only the learning of content but also analytical skills needed for college success.  For those students who are underprepared to do college-level work, colleges should provide targeted remediation made possible by summer bridge programs and courses designed to bring students up to par.  Along the same lines, offering college courses to high school students is a way to get high school students integrated into the college experience prior to attending college.  What we want to do is to provide a college-going culture in high schools.  My second suggestion is based on the research showing the importance of sense of belonging in academic success.  Colleges must make students the heart of the institution and promote student engagement from day one.  This is particularly important for the at-risk population we're discussing.  There should be an emphasis on the first year of the college experience because that is when we lose most students who don't complete their degrees.  A lot of research outlines the specifics for enhancing the first-year experience for students and two of the key factors involve providing mentors, both faculty and peers, and having intrusive academic and personal counseling in place.
 DBE: In your research did you find examples of colleges that were doing well in serving low income and first generation students? If so, what do you contribute their success to?
Angela Provitera McGlynn:  Yes, there are some colleges and universities that have better results than others in promoting academic success for diverse populations.  Elite institutions usually have pretty poor records in recruiting and retaining underrepresented students.  However, there are some elite institutions doing much better than others in promoting academic success for this group.  Some of the more successful institutions are Amherst College, Vassar, and the California University System.  They have partnered with nonprofit groups such as QuestBridge and the Posse Foundation that are both committed to identifying high-achieving poor students, working with them in high school, and connecting them to top colleges. Amherst College is one of the oldest, most selective, and most prestigious liberal-arts colleges in the United States.  They have made a huge commitment to recruiting talented students from all backgrounds regardless of their ability to pay tuition.  Nonwhite students now outnumber white students on Amherst's central Massachusetts campus and 23 percent of students qualify for federal Pell Grants. At the other end of the higher educational sector there are many community colleges targeting at-risk populations and having great success as well.
DBE: We understand that you may be coming to Madison, WI this fall? Will you be available to speak to student groups and faculty? What do you typically consult about?
Angela Provitera McGlynn:  I would love to come to Madison either in late August, September, or October.  I typically do interactive presentations for both faculty and administrators related to improving student success in college.
DBE: How can our readers contact you?
Angela Provitera McGlynn: I can be reached by email at: amcglynn5@ verizon.net.  If anyone would like to see the kinds of presentations I have been doing over the years and my list of publications, they are welcome to visit my Web site at:  http://www.mccc.edu/~mcglynna/index.html or they could simply Google my name, Angela Provitera McGlynn, and my home page would be one of the first entries.
Angela Provitera McGlynn is  Professor Emeritus at Mercer County Community College.  Angela taught psychology for 35 years, has published several books on issues of teaching, learning, and diversity, is a regular contributor to The Hispanic Outlook in Higher Education, and is currently an international consultant for faculty development on engaging students for academic success, promoting analytical thinking skills, and improving graduation rates particularly for low-income, first-generation, and minority college students.